The OHW Dip Kit Gets a Test Drive from
"If you're interested in doing this at home, the OHW Kit is as complete as it gets, very affordable and I'm confident you're far more talented than I am. If I can pull this off, trust me, you can do it better."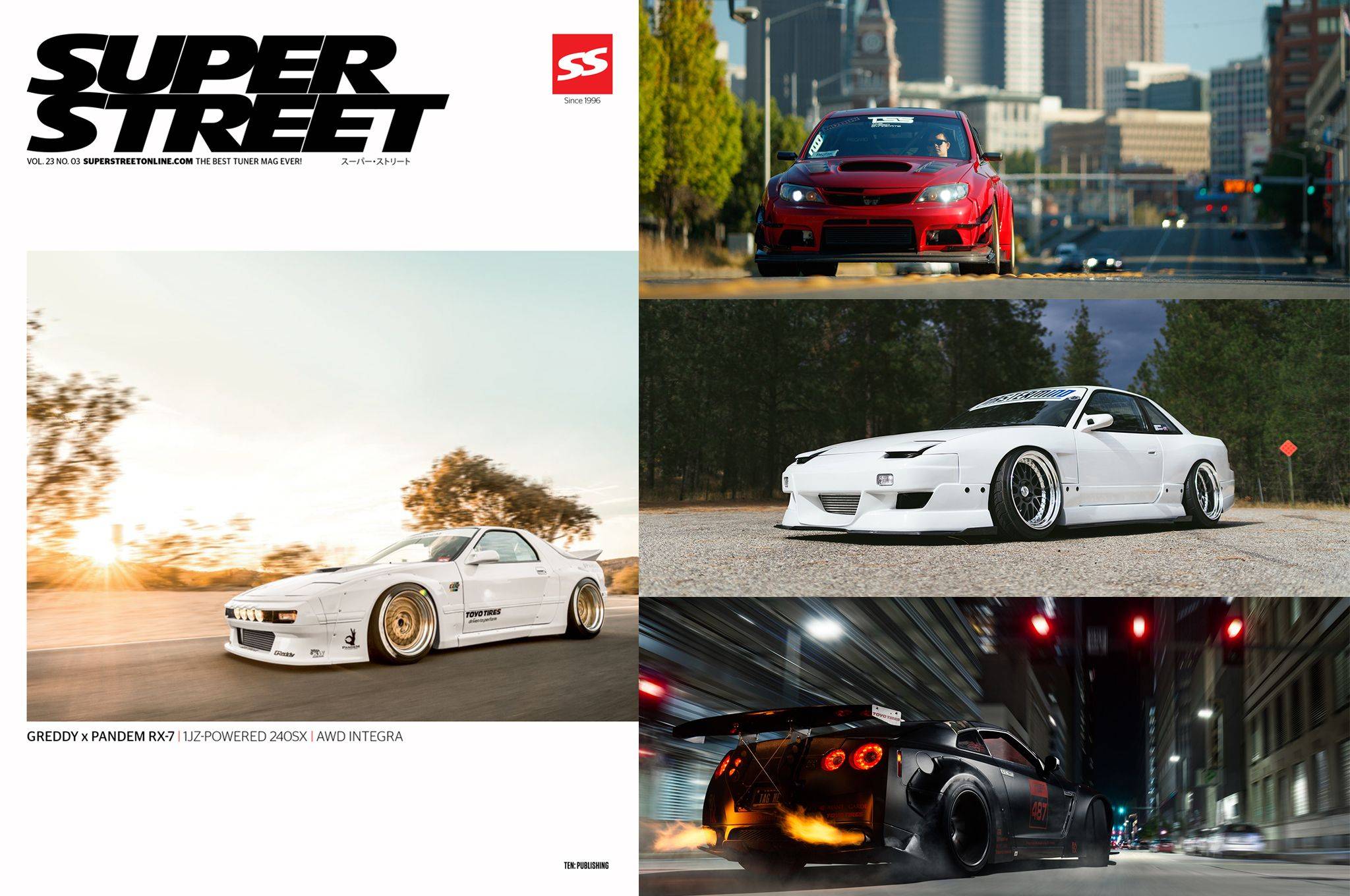 From fender flares and valve covers to game controllers and motorcycle gear, customize just about anything with the DIY Carbon Fiber Dip Kit.
$84.99
Turn Your Garage Into a Dip Shop
We have packaged our years of experience into a high-quality, easy-to-use, Hydrographic Dip Kit that will get you applying hydrographics in no time. All you need is a little imagination and we'll supply the rest.
INCLUDED: Step-by-Step Guide, Scotch® Pad, Tack Cloth, 10 Gloves, 12 oz. Aerosol One Hit Wonder® Paint in Metallic Graphite, 12 oz. Aerosol Ink Drink® Activator, 12 oz. Aerosol Standard or Deluxe 2K Clear Coat and 16.4 Feet of Hydrographic Film.
THINGS YOU PROVIDE: Cleaner, Masking Tape and a Watertight Container (like Tupperware)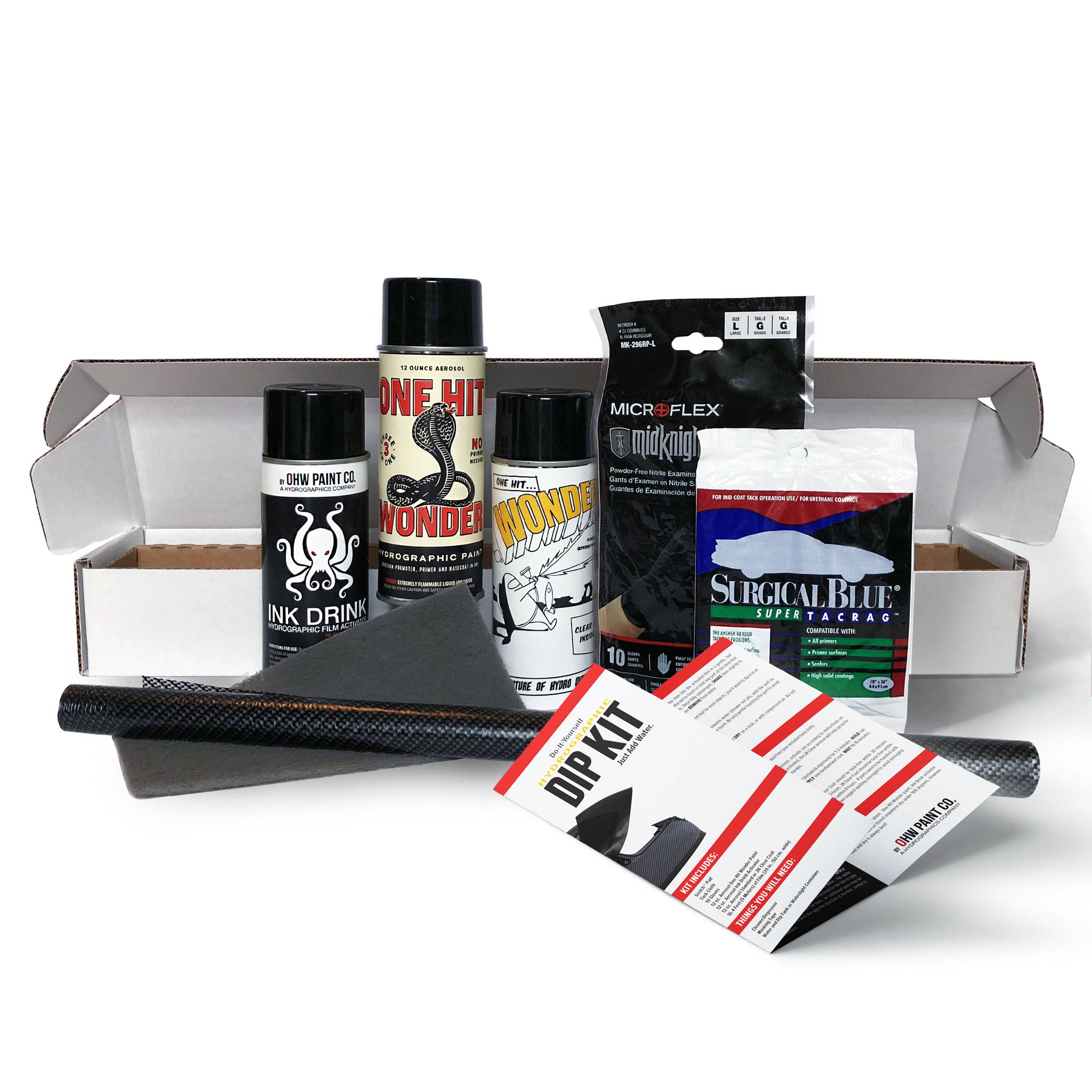 Each kit includes a detailed, step-by-step instruction guide with tips and illustrations to help you every step of the way. Have additional questions? With over 30 years experience, we've seen it all and we are here to help. Call, text or email us anytime.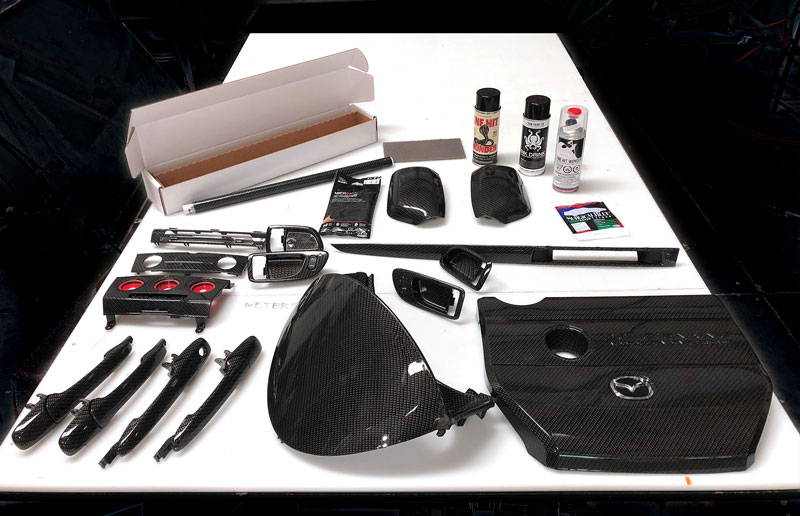 For just $85, you can dip all of the items pictured here. That's a lot of "carbon fiber" for $85 shipped straight to your door. [Pictured: Dash Canopy, Valve Cover, (4) Interior Door Latch Surrounds, (4) Exterior Door Handles, (2) Mirror Scalps, Dash Trim and Center Console]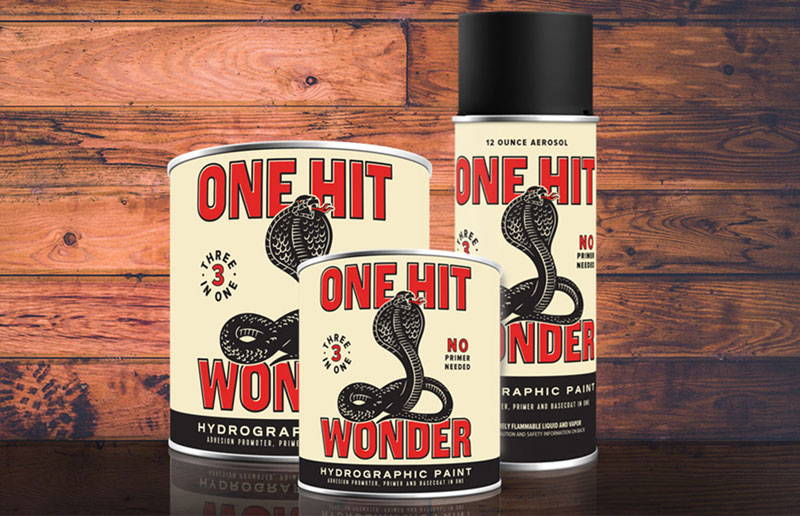 Since 2011, OHW Paint Co. has manufactured the best hydrographic paint on the market. Now, One Hit Wonder® paint and Ink Drink® activator are available as part of the DIY Hydrographic Dip Kit so everyone can achieve professional, high-quality results with the best products available.
I am always amazed at how well the clear lays down, even on rough surfaces like engine components. Even though these parts are textured from the manufacturer like sandpaper, your clear still manages to lay it out almost smooth over this surface. Another reason we use only OHW products.
WISCONSIN HYDROGRAPHICS
I want to take this moment to let you know what a GREAT product you have. I have never painted before I started doing hydrographics. A friend of mine stopped over who has been painting for years couldn't believe how good my projects looked for being a newbie. He said it looked like I have been painting for years. Thanks again!!!! 
K. DEPPEN
You guys are absolutely awesome!! I'll never spray anything else besides your products. I just started doing this a little while back, and I've been able to avoid all the little adhesion and paint problems I've read about on all the forums because of your products. Thanks again for all the help.
N.SANTOS
Save time with our easy to use, signature One Hit Wonder® base coat. No need to apply separate primers or adhesion promoters. Just degrease, scuff and paint. Goes direct to plastic, metal, wood, bone, glass and more.
Get more bang for your buck with our proprietary Ink Drink® film activator. Activate your film with only 1-2 passes and dip MORE with over 16 FEET of film included with each kit.
This kit is super easy to use, but rest assured that if you have any questions before or after you give hydro-dipping a try, we are only a phone call, text or email away.